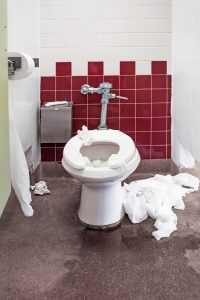 Sewage leaks are one of the most dangerous and destructive forms of water damage. If this type of disaster happens to you, you should be aware of the dangers posed and what you should do to stay safe and take care of the damage done. For the best guidance and help regarding sewage leaks, you should contact a certified cleaning and restoration company in your area. In the Huntsville area, Apex Restoration DKI is one such company here for you to restore any damage done to your home after a sewage leak disaster. Below are a few of the most important things you need to know regarding the water damage stemming from a sewage leak.  
Potential Diseases
First and foremost, you should be aware of the potential diseases you can acquire from coming into contact with a sewage flood in your home. Many of these contagions cause flu-like symptoms. A few of these are viral gastritis, salmonella, cryptosporidiosis, and E Coli. Typically the symptoms resulting from these contagions are not too serious for those that are healthy. However, illnesses contracted from sewage can be far more dangerous for the young, elderly, disabled, and immune-compromised. If there is a flood in your home with any amount of sewage, do all you can to avoid it and have a cleaning and restoration contractor come to assess the situation and repair the damage.
How To Stay Safe
The best rule of thumb for staying safe after a sewage spill is to assume that any surface or materials touched by sewage or are near sewage to be contaminated. Other safety precautions you can take are to wear rubber gloves and eye protection, keep open cuts or sores away from any of the sewage, and thoroughly wash your hands for at least 30 seconds often. Furthermore, you should ensure that your tetanus and diphtheria vaccinations are up to date and avoid applying lip balm, chewing gum, and eating or drinking around the spill.
Get Help
The biggest mistake you can make in cleaning up a sewage spill is to not contact a certified cleaning and restoration company and attempting to clean up the damage on your own. There are several reasons as to why you shouldn't do this. First of all, sewage damage restoration is dangerous work and requires professional equipment to stay safe and free from contaminants while cleaning up the mess. Second, a professional cleaning and restoration company has all the proper equipment and necessary manpower for cleaning up the mess. On your own, it is unlikely that you have the same quality of equipment and time necessary to really get the restoration job done right. Last of all, cleaning up the water damage caused by a sewage spill is stressful, time-consuming work. By hiring a cleaning and restoration contractor such as Apex Restoration DKI in the Huntsville area you can avoid all the stress of cleaning up the mess on your own and sit back and enjoy your home as it is made like new again.