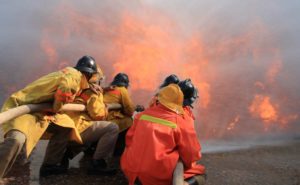 Whether your home had a small kitchen fire, a firework mishap burnt the side of your house, or an electrical fire significantly damaged your home, after extinguishing the fire, the thought of dealing with the destruction the fire left in its path is overwhelming. For almost everyone, house fires are not an everyday occurrence, so it can be difficult to know what to start with. Here at Apex Restoration DKI near Chattanooga, we recommend contacting a professional fire damage cleanup company to assist you with the restoration process. Here are three reasons why.
Professional fire damage cleanup is timely.
Whether your home is uninhabitable after a fire or just partially damaged, having to continue on with your life while the fire damage cleanup is underway is one of the most stressful things about house fires. Fortunately, most fire damage restoration companies begin work on your home within a day or two. From that point forward, they do all that they can to revive your home quickly so that your life can resume as it was before the fire. This quick turnover is a huge advantage that professional cleanup has over a DIY job.
Professional fire restoration companies can do many types of cleanup that you just can't do on your own.
The fire damage cleanup process is more in depth and complicated than you may believe if you have never had experience with it before. Full restoration involves emergency board-up, smoke and soot removal, and structural rebuilding. Furthermore, most house fires leave behind a smoky smell that is very challenging to remove on your own. Restoration companies have established processes that they use to make odor removal possible.
Additionally, you may not realize that water damage is also a result of almost all house fires due to the usage of water when putting out the fire. Most fire restoration companies offer water damage restoration services also, so they are very versed in the water damage cleanup process. They understand how fire damage and water damage interweave, and they know the most effective ways to bring your house back to its original condition after these elements harm them.
You don't have to work with your insurance company because most cleanup companies work with insurance companies directly.
Nearly all fire damage cleanup companies will work directly with your insurance throughout the fire cleanup process. They have worked with insurance companies many times before so they have the experience to ensure that this process will go smoothly. This saves you from having to work with your insurance on your own, a task that can often be confusing and difficult for those who do not do it regularly.

Overall, employing the services of a professional fire damage cleanup company is the only way to make sure that your home returns to its best condition without any negative results of your house fire being ignored or forgotten. It's easy, it's quick, and it's what is best for your home. If you live in or near Chattanooga, contact Apex Restoration DKI to help repair your home after fire damage.