Fire damage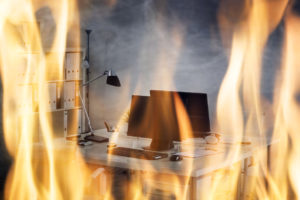 happens to all of us. It is inescapable. Whether due to something small like a cigarette butt, or as large as an explosion, thanks to a faulty wiring system in your kitchen stove, it strikes without warning and can spread like a virus hits the major parts of the body. When it does strike, the consequences can be deadly. Sentimental items can be greatly damaged or destroyed, furniture and electronics warped and shaped into grotesque forms; and of course, smoke stains are strewn about the area of affected areas.
One of the most important steps that you should take is contacting your insurance company and informing them of what has just occurred and hoping with fingers crossed that they will cover everything, or at the most, the majority of the damages that have been taken. After that, it is time to begin the cleanup process. While you are no fire damage cleanup professional, there are a few things that can be you can do while waiting for the professionals to arrive.
Here is a small list of the do's and do not's when self-cleaning after a fire disaster takes place.
THE DO'S
Make sure that you have your hands as clean as possible. If they are not, it is quite possible that you could unintentionally spread the soot and smoke throughout your home.
Use wet towels and place them on your floors and carpeted areas. Doing so will help ease out some of the smoke damage and make cleaning for professionals.
As soon as possible, empty your fridge and put away what food you can and throw out the rest. By doing so, you will prevent your food from getting contaminated via smoke damage.
If you have plants within your residence, gentle wash the outer and underside of the leaves. This will promote a better flow of oxygen and reduce the chances of your plants suffocating to death.
THE DONT'S
Do not attempt to clean any electronic devices without first contacting your electronic professional. Failure to do so could mean injury or death via electric electrocution.
Do not turn on your ceiling fans in order to attempt to sweep away the smell of smoke or move around soot. If done, this could actually spread said soot and smell throughout other areas of your home and add to your professional fire damage cleanup bill.
Do not send your clothes to any ordinary dry cleaning business, as this could actually permanently imprint the look and smell of smoke into your clothes and render them unwearable. Instead, consult a professional dry cleaning business that specializes in the removal of smoke after a fiery incident.
Do not attempt to do any major cleaning yourself. Without the correct tools, you may end up doing more
harm than good to your home.